ID #3975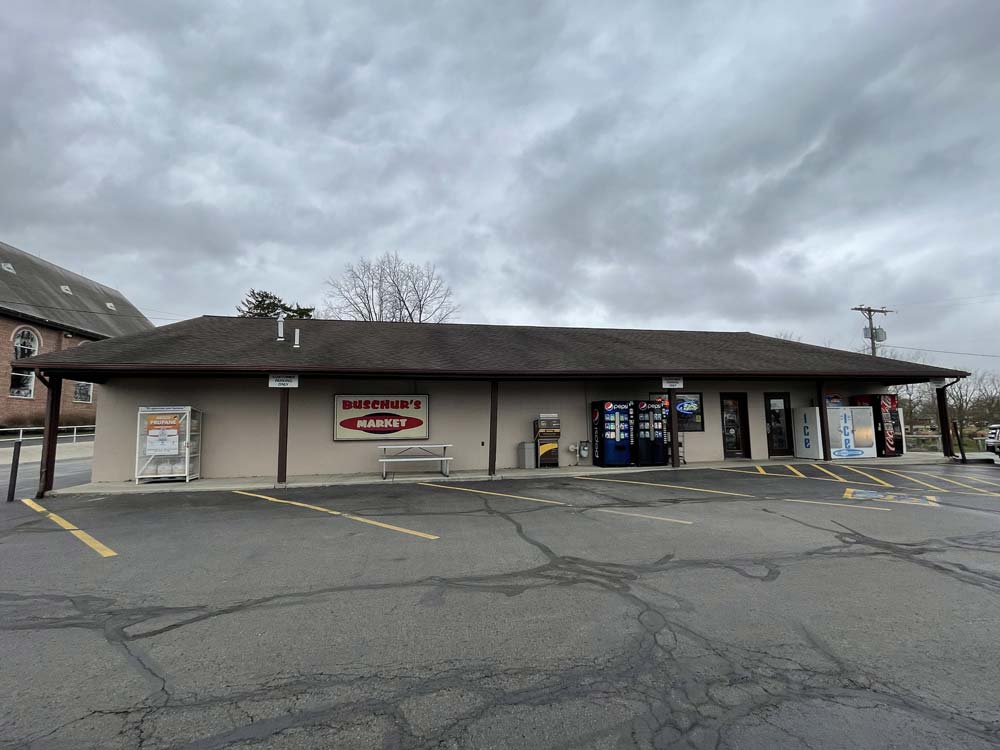 SOLD
Property Type: Commercial
Sq Ft: 3588
Lot Size: 60 Acres -176' Road Frontage, Approx. 160' Depth
Seller: Timothy A. Buschur and Larry L. Buschur
DBA: Buschur's Market

| | | | | |
| --- | --- | --- | --- | --- |
| --- | --- | | --- | --- |
| PRICE: | $399,900.00 | | TAXES: | $2,280.90/year |
| ADDRESS: | 102 E. Main Street | | SQ FT: | 3,588 |
| CITY: | Russia | | LOT SIZE: | 60 Acres -176' Road Frontage, Approx. 160' Depth |
| STATE: | Ohio | | TYPE OF HEAT: | Gas forced air |
| --- | --- | | --- | --- |
Notes

BUSINESS NAME:
Buschur's Market
102 East Main Street
Russia, OH 45363
BUSINESS TYPE: Grocery and Meat Market
ESTABLISHED: 1980
REVENUE: $987,590.00 - 2021
$1,019,153.00 - 2020
$876,166.00 - 2019
PARCELS: Shelby County Parcel ID 24-24-14-178-005
PRICE: $399,900.00
SELLER NAME(S): Tim Buschur and Larry Buschur
REASON FOR SALE: Owners would like to retire
ASSETS YOU ARE BUYING: All Equipment, Goodwill and Real Estate for $424,900
INVENTORY: $70,000 inventory average included in purchase price
o $70,000 Inventory and Supplies
o 16' Hussman Service Meat Case
o 8' Tyler Self-Service Meat Case
o 12' Tyler Produce Case
o 4' True Two-Door Cooler
o 8x10 Tyler Walk-in Freezer
o 8x12 Tyler Walk-in Meat Cooler
o Patty-O-Matic Patty Maker
o Zero Zone Seven Door Freezer
o Globe Stainless Steel Meat Slicer
o Hobart Stainless Steel Meat Slicer
o Globe GSP30A Meat Scale and Label Printer
o Promax 30Ib Vacuum Tumbler
o Heat Seal Wrapping Station
o Trespade 10Ib Sausage Stuffer
o Steakmaster 401 Meat Tenderizer
o Hobart 4152 Meat Grinder
o Hobart 5216 Meat Saw
o 2x8 Wood Meat Block
o 2x6 Wood Meat Block
o (8) 6' Polytop Meat Blocks
o Miscellaneous Office Equipment, Camera System
o Miscellaneous Meat Equipment: Roasters, Crackpots, Food Warmers
o Microwave, Shelving, Knives
o 6x2 Masterbuilt Self-Service Freezer
o Tyler Seven Door Dairy Cooler
o 240' Shelving
EXECUTIVE SUMMARY: Buschur's Market is located in the small town of Russia, Ohio. The business is located in the heart of town with much visibility on Main Street. Buschur's Market is a well-established independent grocery and has been a family run business since 1980. This is a turnkey business with the purchaser buying all of the current assets, inventory, goodwill, and the real estate. Store hours are as follows:
STORE HOURS:
Monday - Friday: 7:00AM - 7:00PM
Saturday: 7:00AM - 2:00PM
Sunday: 7:00AM-1:00PM
SELLER: Timothy A. Buschur and Larry L. Buschur
DBA: Buschur's Market
ADDRESS: 102 E. Main Street, Russia, OH 45363
SQ. FOOTAGE: 3588 Square Feet
LOT SIZE: 60 Acres -176' Road Frontage, Approx. 160' Depth
TAXES: $2,280.90/year
TYPE OF CONSTRUCTION: Concrete Block Construction
TYPE OF HEAT: Gas forced air
CENTRAL A/C: Yes
RESTROOMS: Men's - 4'5" x 7'7"
Women's-4'10" x 7'6"
FRONT CANOPY: 6' X 78'
ELECTRICAL SERVICE: 400AMP 120/208 volt, three-phase
RETAIL OPEN AREA: 36'8" x 68' with epoxy coated concrete floors
MANAGER'S OFFICE: 6'2" x 8'3"
MEAT DEPARTMENT: 9'2" x 29' 9"
NOTES: Great opportunity to purchase this very well established grocery business located in Russia, Ohio. This purchase includes all equipment, $70,000 worth of inventory, business goodwill, and the real estate. Commercial building is in good condition with plenty of off street parking and located in the center of town. True turnkey purchase with assistance from the sellers. Average annual sales of approximately $960,000.00
BUYER/BROKER CO-OP: 2.4%
SELLING PRICE: $399,900.00
---
Current Commercial Listings